By Hazel Butterfield
You no doubt saw your social media feed inundated with your friends having a dip in the freezing waters of a British ocean/lake on Christmas Day/New Year's Day. It is becoming increasingly popular. But why?
It activates endorphins.
Endorphins are the body's natural painkillers. Endorphins are released by the hypothalamus and pituitary gland in response to pain or stress, this group of peptide hormones both relieves pain and creates a general feeling of well-being.
https://www.health.harvard.edu/mind-and-mood/endorphins-the-brains-natural-pain-reliever
It improves your circulation. The heart has to pump faster in cold water and the body must work harder to keep everything warm while swimming, ergo burns more calories.
Cold water helps to boost the white blood cell count because the body is forced to react to changing conditions. This then increases your body's immunity levels and increase its ability to identify disease-causing organisms.
Boosts oestrogen and testosterone production, which helps to gain muscle mass, bone strength and fat distribution.
Not to mention the sociability factor, and not just via your Instagram!
You may have heard of Wim Hof, motivational speaker and extreme athlete noted for his ability to withstand freezing temperatures who is about to embark on a tv programme following a group of soul-searching celebrities as they embark on an epic adventure of self-improvement, and face a unique test of mental strength like no other. He teaches a breathing technique and a cold exposure practice which leads to a host of health benefits which include:
Increased energy
Better sleep
Reduced stress levels
Heightened focus & determination
Increased willpower
Stronger immune system
Discover more https://www.wimhofmethod.com/practice-the-method here.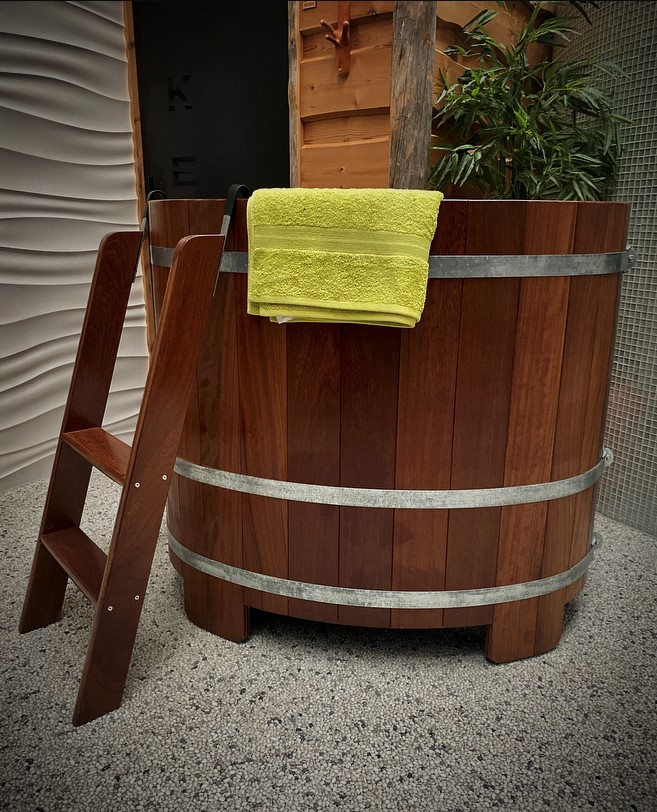 The benefits of cold water swimming are incredible, but is it for you? Is it something you can have easy access to or able to fit into your schedule?
What if we had a solution that didn't involve being out in the elements with access to immediate home comforts and warmth afterwards? Or an additional alternative?
This is where the plunge pool or ice bath comes into its own. Dröm UK supply wooden tubs that can be filled with cold water or ice in your own garden and iCool, a company that supplies cooling systems for leisure companies and sports clubs amongst others, can supply rigid or inflatable baths to help aid recovery in sports. See below for more details from their website:
The Science Behind iCool Ice Baths
Cold is your friend and breathing is the key. Used together, they can radically improve your life.
After 18 years of experience as the world's leading ice bath recovery company, iCool has developed the very best water temperature control technology for dedicated athletes and wellbeing warriors worldwide.
The iCool ice bath system technology enables health and fitness enthusiasts to accurately combine the scientific benefits of cold water immersion (CWI) to go deep into the body's untapped recovery potential.
Before you dive into the world of ice baths:
Your body needs to learn to adapt to the cold. It's a science that begins and ends with the breath. At first, your cardiovascular system may react to the ice-cold water by causing you to breathe erratically. As you slowly increase your tolerance to cold showers, you will be able to exert control over your breath's rhythm, and thus, increase the benefits of cold water immersion (CWI).https://icoolsport.com/the-science/